Throughout July we will be encouraging members of staff, patients and local people to sign or send in a message to be inclded in our NHS 70th birthday cards.
The cards are made up of 1000 pictures of hospitals in East Sussex, doctors, nurses, healthcare professionals and other NHS staff throughout the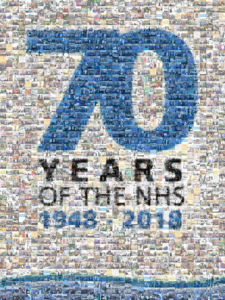 decades. You can send us a message to include on the card on on the website at the bottom of this page.
We will also publish a special edition of ESHT news, highlighting the history of ESHT and its hospitals. The special 70th birthday edition includes stories from members of staff and patients who remember working in the local hospitals, or having been treated there, before and after the creation of the NHS.
There will be a display of historical NHS memorabilia at Eastbourne on 5th July and at Conquest on 6th July.
Short films of members of staff and patients sharing their stories will also be released over social media during the July. The films, stories and photos will also be made available on our website.
We hope you might be able to join some of our celebrations.