People across East Sussex are being asked to think twice before they attend one of our Emergency Departments (A&E) in Hastings or Eastbourne, and are being urged to please only attend if they are seriously unwell.
It is vital that people remember our Emergency Departments (A&E) are for serious or life-threatening situations, including:
Severe chest pain
Suspected heart attack or stroke
Suspected meningitis
Injuries such as fractures or major burns
Breathing difficulties
Unconsciousness
Heavy or uncontrolled bleeding
Suspected drug overdose
Sudden and severe headaches
Severe head injuries.
Patients who do not need to come into A&E with minor illnesses could be better treated by alternative health services, eg. GP, pharmacist, dentist, walk in centres, minor injury units or by calling NHS 111.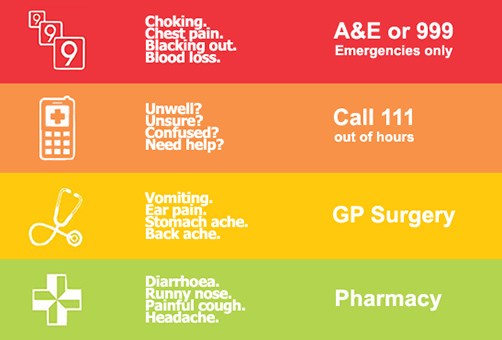 It is estimated that around 2,000 patients a month come to A&E with complaints that should be treated by another part of the health service. The most common reasons in addition to minor illness, are bites and stings, dental problems and back pain which can all be treated by alternative services.
Amy Collis, Head of Nursing for Urgent Care said: "It's really important, especially over a bank holiday weekend, that local people help us to keep our Emergency Departments free for those people who require emergency treatment. Emergency Department doctors and nurses will continue to prioritise those patients who urgently require our help and will work with those patients who come to the department with minor illnesses by helping them find the most appropriate service."