The Trust has been praised in a personal letter from the Secretary of State for Health, Jeremy Hunt, as having the most improved quarterly performance in our Emergency Departments (A&E) in the country. The quarterly percentage of patients treated and either admitted or discharged within four hours increased by nearly nine percentage points, from 80.7% between March to May to 89.4% between June to August.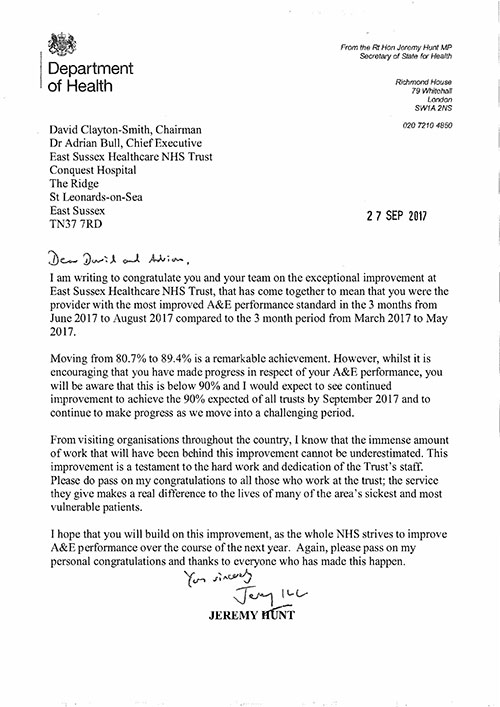 The letter, sent to Chief Executive, Dr Adrian Bull and Chairman, David Clayton-Smith, described the achievement as "remarkable" and "testament to the hard work and dedication of the staff". Jeremy Hunt said this improvement was "making a real difference to the lives of many of our sickest and most vulnerable patients".
Dr Adrian Bull, ESHT Chief Executive said: "It was a pleasant surprise to receive a letter from the Secretary of State saying we were the most improved Trust in the country for A&E performance and praising this achievement. It is recognition of the hard work and dedication of many colleagues both at the Trust and across our local health and social care system. We will continue to work together under 'East Sussex Better Together' to improve A&E performance even further, as there is strong clinical evidence to show that meeting this standard achieves better outcomes and improves patient experience.