Our contribution towards NHS Blood and Transplant's ambition for the UK to become world class leader in organ donation and transplantation, has been praised
Between April to September 2017 the Trust consented seven donors which facilitated six actual solid organ donors resulting in 13 patients receiving a life-saving or life-changing transplant during the time period.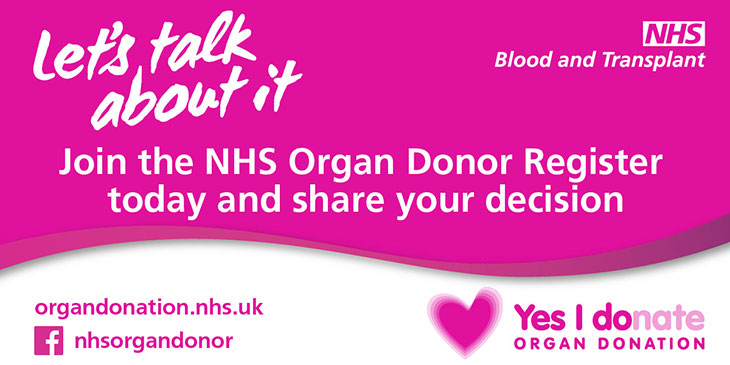 When compared to the national average for best quality of care in organ donation the Trust was:
Exceptional for Specialist Nurse being present when approaching families to discuss organ donation for all organ donation discussions with families of eligible donors during the time period.
Average for the referral of potential organ donors to NHS Blood and Transplant's Organ Donation Service.
Dr David Walker, Medical Director said: "We are pleased our approach to organ donation has been recognised and praised. The work and commitment of Dr Tuhin Goswami our Clinical Lead for Organ Donation has been instrumental in our excellent performance. Our numbers of donations might be small but each and every organ donation can give the gift of life and save up to nine people and can help many more through tissue donation such as skin, corneas and tendons. Everyone can help by signing up to the Organ Donor Register and talk about their wishes with their families."
Sixteen people benefitted from a life-saving or life-changing solid organ transplant in the South East Coast area, since April 2017. However, in the South East Coast area six people died on the transplant waiting list during this time and 377 people were still waiting at 31st October 2017.
Anyone can join the register by visiting www.organdonation.nhs.uk/how_to_become_a_donor/registration or calling the NHS Donor Line on 0300 123 23 23. Organ donor's names are held on the NHS Organ Donor Register. It is a confidential national database that holds the details of people who want to donate their organs when they die.  However, a donor's family still needs to agree and honour the donor's wishes after death, so it is important people talk about their wishes with family members.