The Trust is supporting NHS Blood and Transplant and Organ Donation Week to encourage people to share their choices about organ donation with their family following changes to the law around organ donation in England.
In July, the Trust was thanked for supporting vital organ transplants for eight patients during 2019/20. This has resulted in two liver transplants and 11 kidney transplants, as well as numerous tissue transplants thanks to the generosity of the donors and their families, and the support of ESHT staff.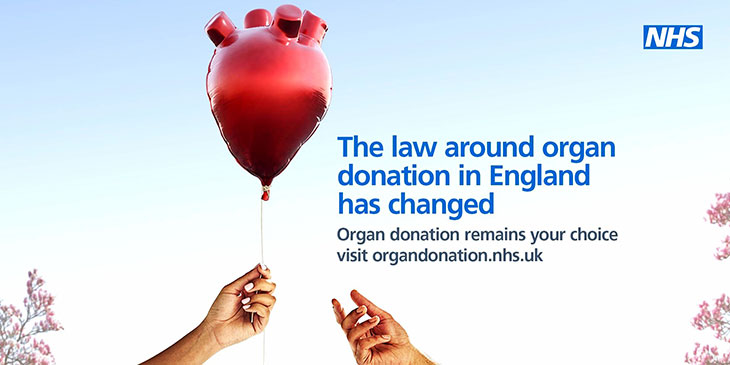 Transplant operations do not take place at ESHT, but the Trust has a team of specialist nurses in organ donation who provide information, answer questions and discuss the wishes of the patient with their family.
Every day across the UK someone dies waiting for a transplant. In a bid to save more lives, the law around organ donation in England has now changed to an opt-out system. All adults in England are considered to have agreed to be an organ and tissue donor when they die, unless they have recorded a decision not to donate or are in one of the excluded groups or have told their family they don't wish to donate. All adults covered by the change still have a choice whether they want to be an organ donor and their families will still be involved before organ donation goes ahead.
It's important that people not only register their decision on the NHS Organ Donor Register but share it with their family or closest friends too, to give them the certainty to support their decision at a difficult time.
Organ donation could save or transform up to nine people's lives by donating your organs when you die and help even more people by donating tissue, such as your heart valves, skin, bone, tendons and corneas.
Nicola Goodwin, Specialist Nurse on the South East Organ Donation Team said: "We want to make sure people are aware of this really important change to the law around organ donation. It's important you not only register your decision on the NHS Organ Donor Register but share it with your family or closest friends too, to give them the certainty to support your decision at a difficult time. You could save or transform up to nine people's lives by donating your organs when you die and help even more people by donating tissue."
"Just visit www.organdonation.nhs.uk to find out more and register your decision – it's a simple process that takes just a couple of minutes."
Find out more about organ donation visit – www.organdonation.nhs.uk