Patients in East Sussex will benefit from earlier diagnostic tests closer to home thanks to a new community diagnostic centre set to open in Bexhill later this year.
The new centre which will provide scans and tests, is being funded by over £2 million of investment from the Government. Work to convert the former Apollo Car Showroom on Beeching Road into the Bexhill Community Diagnostic Centre is already underway.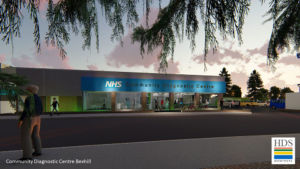 Within the centre we will have state of the art equipment including; a mobile CT scanner, two X-ray rooms and six clinical/ultrasound rooms, as well as a space to undertake blood tests.
The centre is one of around 40 being opened across the country, of which five will be in Sussex, which will lead to:
earlier diagnoses for patients through easier, faster, and more direct access to a range of diagnostic tests needed to understand a patients' symptoms
a reduction in hospital visits which will help to reduce the risk of COVID-19 transmission
a reduction in waits by diverting patients away from hospitals, allowing them to treat urgent patients, while the community diagnostic centres focus on tackling the backlog
a contribution to the Trust's net zero ambitions as the building is designed to be carbon neutral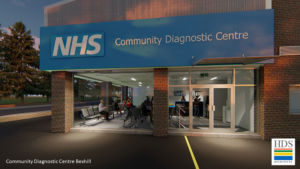 Patients referred to East Sussex Healthcare will be booked in for their scans and tests at the new centre so they can access life-saving checks closer to home and be diagnosed for a range of conditions, rather than travelling to hospital.
The centre will be staffed by a multi-disciplinary team of staff including phlebotomists, physiologists, sonographers and radiographers and will be open 5 days a week from October 2022 with an aim to move to six days a week from April 2023.