Allied Health Professionals (AHP) play a vital part in providing care to patients in the NHS.
Encompassing a wide range of therapist professionals as well as radiographers, dieticians, podiatrists, osteopaths, operating theatre practitioners, orthoptists, prosthetists and paramedics, the ongoing treatment and welfare of our patients couldn't continue without their dedication and expertise.
This year Allied Health Professions Day takes place on Friday 14 October. We talk to Fran Williams, the trust's Occupational Therapy Development Lead, about what an occupational therapist – one of the fourteen AHP professions – does and what led her and her colleagues to develop the trust's new AHP preceptorship programme, which launches this week.
"One of the things I like about working as an occupational therapist has been how holistically we work, focusing on the things that matter to patients in their day to day lives," Fran explains. "We're here to help patients resume their lives, to get back to normal as much as they can when they've had a change in their condition or functioning and need our support." This can be anything from helping someone recovering from a stroke to be able to get out of bed as they recover, to supporting people with dementia to develop a daily routine.
"The longstanding joke is that occupational therapists are here to help people learn to make cups of tea again," she laughs. "It's a lot more than that, but that's also quite a good example. If people are unsteady on their feet around the kitchen or if they have a cognitive impairment that makes remembering where the teabags are or what the stages of making a cuppa are, we work with them to get it right and gain confidence. That's how we work – whether it's something as small as a cup of tea or something bigger like being able to visit family and friends, we help them get back to living their lives."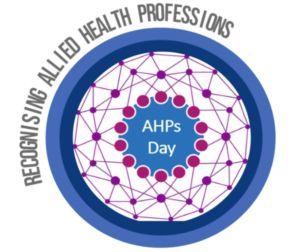 Allied Health Professionals undertake extensive academic training to learn their profession but, as with many clinical professions, the gap between learning in the classroom and giving care on a ward or in a patient's home can be significant. "When you graduate, you have some of this knowledge, but you probably have little experience of NHS culture," says Fran. "It took me a long time after I graduated to feel comfortable as someone working as part of the NHS, and there were times that I was asking myself 'am I doing the right thing?' It worked out well for me in the end, but it was tough at times."
It is the need to support newly qualified staff to take this step into clinical practice – as well as supporting those returning to work in a constantly changing NHS, and those joining the NHS from overseas – that led the AHP team to develop the new AHP preceptorship programme, which launches this week. A mix of online training, clinical simulations and face-to-face workshops, the trust's AHP preceptorship programme not only supports staff translate classroom knowledge to hands-on expertise, but gives them a deeper understanding of NHS values, how the wider system works and the broader, non-clinical skills needed in the NHS in areas such as leadership and research.
"Louise [Myeni, Physiotherapy Practice Educator] was working on developing a programme to support newly qualified physiotherapists, but she realised quite quickly that the support they needed was something that all of our new AHP arrivals could benefit from too," Fran explains. "The AHP team have been working together over the last few months to create this new programme, which we know will help AHPs when they get here and, we hope, will encourage more newly qualified AHPs to apply for roles here."
Unusually for a preceptorship, an important part of the trust's AHP preceptorship programme is the use of clinical simulation, something that isn't ordinarily available for AHPs.
"Applying the knowledge that you've learnt in the real world, where what you do can have real consequences for people's lives is daunting, but clinical simulation gives you the opportunity to practice in a safe environment," Fran says. "It helps you take that big step into clinical practice, while making sure you've got the support you need. That's what we've looked to do in creating this programme – provide that support to give AHPs the confidence they need to give great care."
The new AHP preceptorship programme launches tomorrow, on Allied Health Professions Day, 14 October 2022.