A Friends of Conquest Hospital volunteer has been recognised for his services to volunteering, both at the hospital and within the Hastings local community.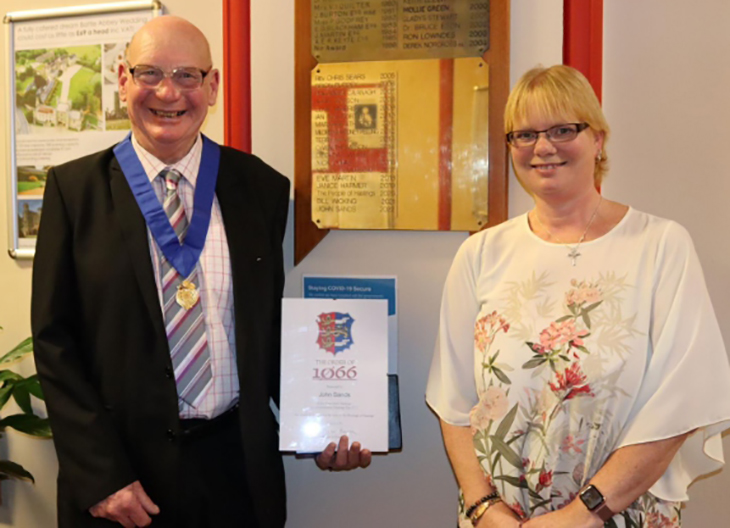 John Sands, who has volunteered with the trust for over 10 years, received the Order of 1066 Award at the weekend from Councillor James Bacon, Mayor of Hastings, for his volunteering services to the town and the community. He said:
"I have been volunteering at the trust for over 10 years now and all I can say is I love it. I meet people from all walks of life and over the years have done a wide range of volunteering roles.
"I'm made to feel like one of the family by the staff and I feel I am supporting the teams. I was so proud to be awarded the Order of 1066 award. It is hard work, but I enjoy it, it makes me smile and I think I've shown it's all been worthwhile. I hope to be volunteering for many more years to come."
The Order of 1066 Award is presented annually and is linked with the celebrations for Hastings Day on 14 October. The award recognises and honours a person who has rendered especially meritorious service to the town and its inhabitants in a voluntary capacity.
The recipient of the award is decided by a special panel which is chaired by the mayor and nominations are invited from organisations and individuals in the town.
John was nominated by a patient for his cheery personality and willingness to help and run errands for people when he takes the shop trolley around the wards, as well as for his helpfulness and friendliness to both staff members and visitors in the Friends shop itself.
Yvette Hamilton, Voluntary Services Coordinator, said: "It is such well-deserved recognition. John has been a committed and popular member of the volunteering team with both staff, visitors and patients alike."
In addition to his hospital volunteering, John also volunteers with the Hastings and Bethune Twinning Association and has done so for 42 years, organising exchange visits between the two towns.