The building works for the new Community Diagnostic Centre (CDC), created from a former car showroom on Beeching Road in central Bexhill, are nearing completion. We talked to Stef Burcombe, Programme Manager for the CDC project, to find out a little more about the project.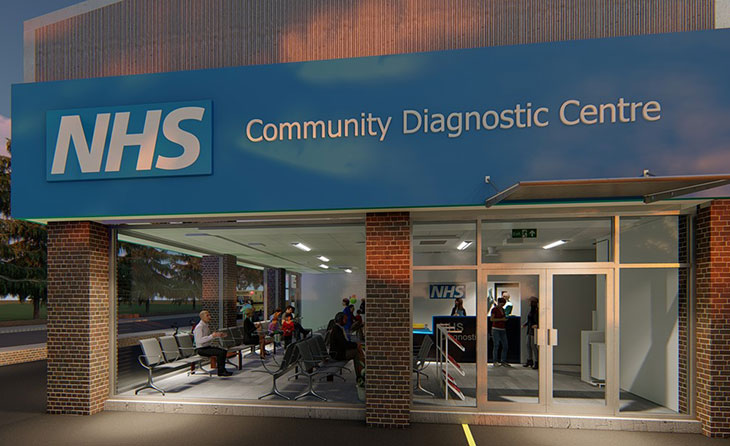 "We're entering the last few weeks of the build and things are going really well," she says.
"All of the main systems are now in place and the main building works have been completed, so we're now looking at wrapping up the last few bits of the painting, furnishing and cleaning."
The centre, which will initially run Monday to Friday but will increase to Monday to Saturday next year, will enable residents to have a range of tests undertaken without needing to go into hospital.
The first patients to use the centre will arrive on 14 November, when the phlebotomy clinics begin. Additional diagnostic services will begin offering appointments in the following weeks.
The project has been the product of a lot of close working between the trust's estates and facilities, clinical, digital and finance teams.
"Delivering this project hasn't always been straightforward," Stef explains, "but the support we have had from our colleagues has meant that we will have a great new facility we can all be proud of."
David Garrett, Divisional Director of Core Services, who oversees our diagnostic services, said, "It's the sort of facility that will make a real difference to the experience that our patients will have, and I'm really pleased that we are already booking in our first patients. Thank you to everyone who has helped us get to this point".
Trust Non-Executive Director Karen Manson, who recently visited the CDC site to see how the works were progressing, said: "It was fantastic to be able to visit the new CDC as everyone was putting the finishing touches to it. It's incredible to think that something that was a deserted car show room just a few months ago has been so quickly transformed into this new, first-class centre  that will strengthen our diagnostic services provision and give East Sussex residents a comfortable and accessible new space to have their tests. Truly the trust's teams at their best."