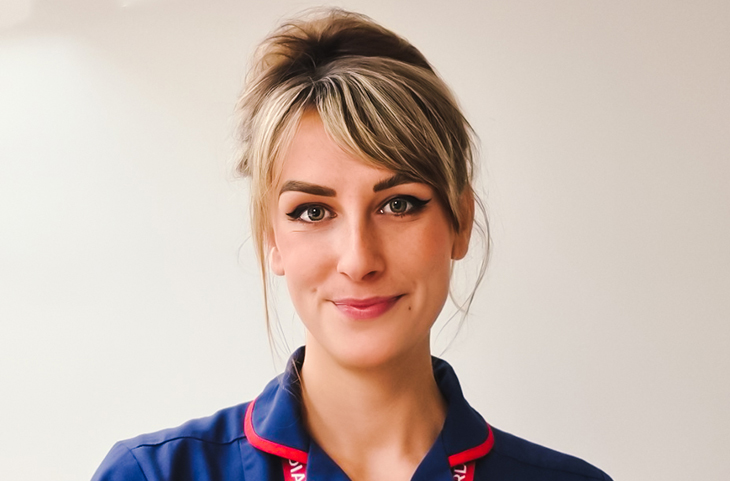 Community rehabilitation plays a central role in many patients' journeys of care, but also plays an important part in getting patients safely out of hospital and back to their homes – as well as stopping them from coming into hospital in the first place.
We caught up with Georgia Daines, one of our Associate Practitioners in the Community Rehabilitation team, to hear about her role and how the team are working to support hospital avoidance and patient flow.
"There are two parts to the service," Georgia explains. "There's the rehabilitation side which people are more familiar with, where occupational therapists and physiotherapists provide clinical care. That's often after people have been unwell and need support to recover their strength and mobility or for people who need special equipment to be able to move around. But the service is broader than that – we provide reablement as well, something that's essential to many patients."
Reablement is the support that patients need to get back to living their life. "It's about supporting them in relearning the skills they need to cope at home, to regain their independence and their confidence," says Georgia.
The reablement arm of the service is delivered by a mix of clinical staff and adult social care colleagues from East Sussex council, whose combined experience across health and care means that they can not only get a complete picture of a patient's needs when they are assessed but are also able to deliver the range of support that they need at home.
Georgia works largely in patient assessment, working with referrers from the trust and primary care to understand the patient's needs and support continuity of care, but also delivers reablement treatment directly to patients. For referrals from GPs, the involvement of the team can make the difference between someone staying active in their own home or needing a trip to hospital, putting further pressure on hospital services.
Similarly, when a patient is medically fit for discharge, a package of care arranged with the team can help get them home quickly – and the more details a referrer can provide, the more quickly a patient can be assessed.
"When we get a referral from a clinical team or a GP, it's really helpful if we can get as much of the information we need on the referral as possible. The physical and cognitive functions of the patient are really important, but also important is an idea of the sorts of activities they will be able to manage in the home, and what they want to be able to do too," Georgia explains. "We can follow up with teams when we need to, but if we can get that information first time round, then it means that we can act more quickly to get a patient home – with less additional input from the referrers, who are always very busy."
Having worked in acute and intermediate care before, it's the satisfaction of being involved in the final part of a patient's journey of care that Georgia finds most rewarding in her role.
"We can help patients return to a good quality of life, even after they've been quite seriously ill," she says. "It's the last part of their journey; after going through a lot. We're there to help them get over that last hurdle. It's helping people get on with living their lives, and that means a lot to me."