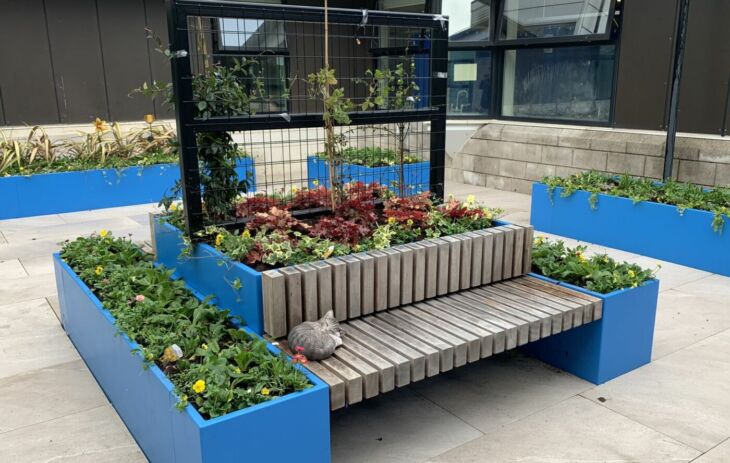 A plan to convert an unloved courtyard into a sensory garden for patients in the Critical Care Unit at Conquest has finally come to fruition.
Spearheaded by Pauline Simes, Head of Critical Care Unit, and Vicky Streeter, Critical Care Administrator, the planning for the project started back in 2018. After a lot of fundraising and then delays caused by the pandemic, the now completely refurbished courtyard reopened in the summer, and patients and staff have been enjoying its delights.
Joe Chadwick-Bell, Chief Executive, visited the garden recently to congratulate the team. She said: "Well done to everyone involved. This is a fantastic achievement and you should all be very proud of what you have done. The whole garden and the wonderful flower displays look lovely on this bright autumn day, which is testament to all of the hard work put in by everyone involved.
"This is teamwork at its best. Pauline and her team, together with Andrew and the gardening team, along with the support of the Friends of the Conquest Hospital, all working together is part of what makes this whole project so special."
Pauline said: "We are so delighted with what we have achieved, and it makes all the efforts of the whole team so worthwhile. We raised funds from cake sales, Christmas raffles, international food sales and a sponsored walk from Hastings Pier to the Cooden Hotel to name but a few.
"We needed to raise a huge £30,000 for this project, and our efforts, together with amazing support from local companies and the Friends of Conquest Hospital, means we can now bring our patients into our beautiful new courtyard.
"We would also like to make a special mention to Andrew and his team of trust gardeners who have been involved in the project from the start and saw it through to completion with the planting of all the flowers. They continue to be heavily involved in the ongoing maintenance of the garden, and we can't thank them enough for all their support."