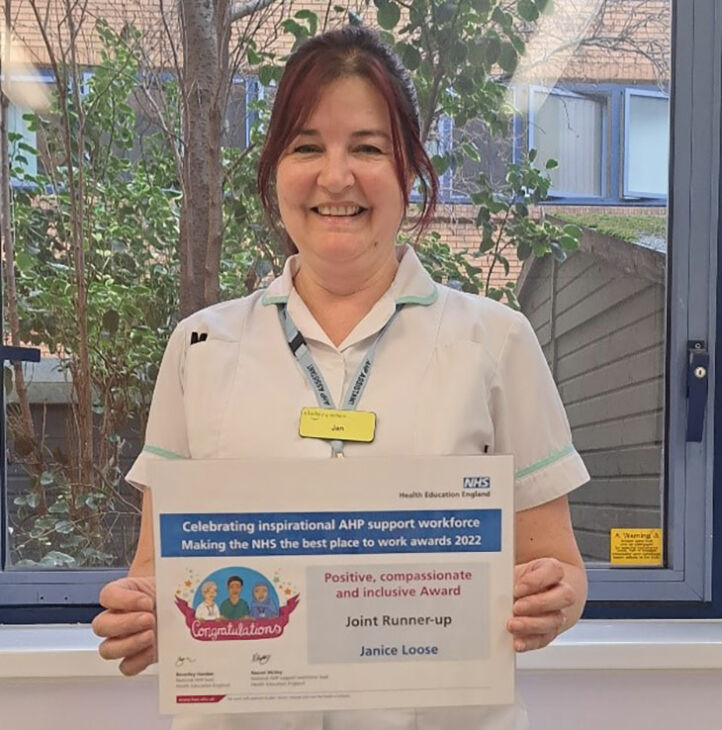 Jan Loose, a Therapy Assistant Practitioner in the integrated discharge team at Eastbourne, has achieved joint runner up at the recent Health Education England, 'Celebrating inspirational AHP [Allied Health Professions] support workforce' national awards.
The awards celebrate the contributions of support workers to patient care and recognise individuals who work alongside the 14 Allied Health Professions to make services innovative, patient-focused and inclusive. Rosy Shrubbs, Clinical Lead for the occupational therapy integrated discharge team, who nominated Jan, described her as "the glue that holds our team together, a reluctant heroine" in her nomination, which also included tributes that celebrated the compassion and care she shows when dealing with patients and the support Jan gives to new members of staff. The nomination also highlighted the work Jan does to make the environment better for everyone.
Rosy said: "Jan has worked tirelessly in her own time to develop the therapeutic garden. Every Christmas she gathers the talents of staff around her to create a magical wonderland for the enjoyment of staff and patients.
"Currently, Jan is painting a colourful mural on the back of the shed which will be viewed from the assessment kitchen instead of a blank wall, because, she says, 'Who wants to look at a blank wall?!' This sums up our Jan – quietly doing something magical and with such humility no-one realises until suddenly the task is done and, like the painting, it's bright and beautiful and we wondered how we ever managed without it before."
Jan, whose nomination was in the category of 'Positive, Compassionate and Inclusive' said: "I work with an amazing team and wonderful colleagues and I was so proud to be nominated, let alone be awarded joint runner-up. I would like to thank my colleagues, and in particular Rosy, for nominating me."
AHP support worker responsibilities range from performing routine tasks, such as welcoming and preparing service users for treatment, to direct clinical and support tasks such as applying dressings and treatments or helping service users meet their care plans. Support workers are employed in the majority of AHP services, working with registered professionals and providing care and treatment to our patients.