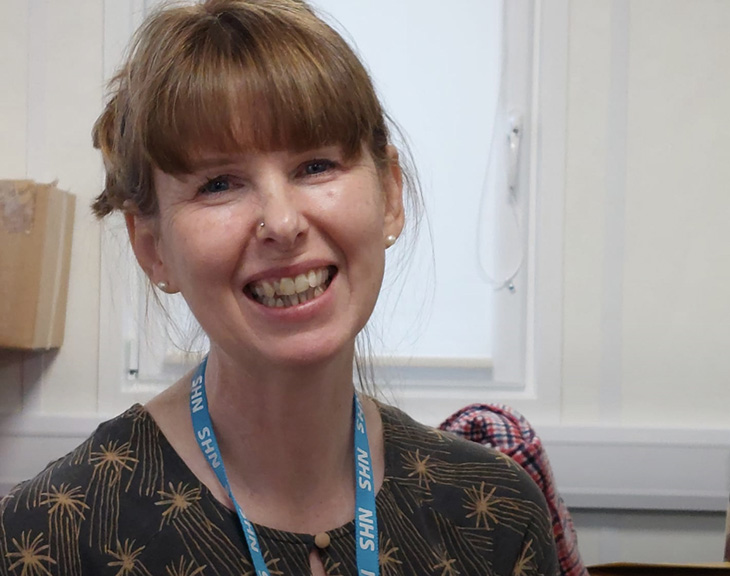 Many NHS colleagues will work at different trusts or NHS bodies over the course of their career. Some will even leave the NHS altogether for part of their working life – but many are choosing to return later in their careers.
We caught up with Dr Suzanne Lee, one of our consultant midwives who rejoined the NHS in 2021 to hear about what motivated her to come back to the front line.
"It was really about wanting to be part of something," Suzanne explains. "The pandemic really brought home to me how much I missed being a part of a team that was caring for people and being part of the NHS – being part of something bigger."
Having qualified as a midwife in 2001 after working as a mental health nurse, Suzanne worked at the Royal Sussex County Hospital in Brighton. She progressed steadily into more senior roles, but felt that these started to offer her less of what had led her to become a midwife in the first place. "I enjoyed being a midwife, but I didn't want to be a manager," says Suzanne. "Many midwifery and nursing staff progress through to those managerial roles in their career; I have respect for those that do, but workforce planning and things like that aren't for me. I still wanted to progress in my career, but to use my expertise as a midwife in a different way."
Suzanne joined City, University of London, in 2013 as a midwifery lecturer, passing on her expertise to new generations of midwives going through training. But during the pandemic, she thought again about where her career was taking her and what she wanted from her working life. "I thought that I'd work at the university until I retired," Suzanne says. "But over the pandemic I realised how much I missed delivering hands-on care. I enjoyed supporting colleagues and new midwives, the things that had led me to teach, but I missed making a difference to women and people giving birth and providing that support. I missed what had led me to become a midwife in the first place, so I looked at how I could come back into practice. I saw this role at the trust, applied for it and started back as a midwife in 2021."
Although it had been nearly 10 years since she had been a practising midwife, Suzanne found the process of going back to providing hands-on care quite straightforward. "The fundamentals of care and practice haven't changed that much. The changes that were more noticeable were more on the administrative side; how to bleep someone, how to use the software packages, things like that," she explains. "But the team here are great and so supportive. I can help a new midwife in improving her clinical practice and she helps me wrestle with the computer systems. We support each other; it's something that I'm pleased that I can experience again back in the NHS."
Reflecting on her decision to return to practice, Suzanne has no regrets. "It was the best decision I could have made. It isn't where I thought I'd be 10 years ago, but I wouldn't want to be anywhere else."
Here at the trust we are always looking for great staff to join our teams. If you know someone who has trained as a midwife but isn't currently practising, they may be missing their time supporting people giving birth and working with a team, and be interested in returning to the NHS.
To support these midwives who may be thinking about returning to practice, we are holding a Return to Midwifery webinar, in collaboration with a hiring platform, Indeed. The webinar will take place from 3pm to 4pm on Monday 13 March, and will provide information on the Return to Midwifery initiative, the Return to Practice programme and the support we're offering to help midwives with an active or lapsed UK NMC PIN to return to practice with confidence and competence.
The registration page for the webinar is now live, so please share this with any friends and former colleagues who may be interested.