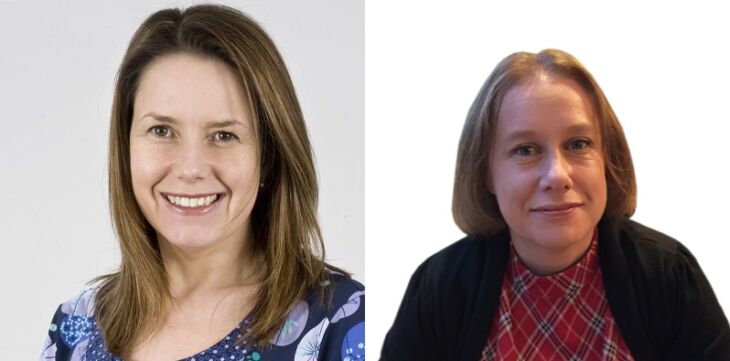 Nutrition and Hydration Week started in 2012 with the aim of bringing people together to highlight the value of food and drink in maintaining health and wellbeing. The Wednesday of Nutrition and Hydration Week is Swallowing Awareness Day, the first of which was organised by our very own team of speech and language therapists back in 2016.
We spoke to Anita Smith, Consultant Speech and Language Therapist (pictured left), and Jen Fielder, Interim Professional Lead for Dietetics (pictured right), to find out more.
"Nutrition and Hydration Week is a fun opportunity for us to highlight the importance of good nutrition and hydration," says Jen. We want to raise awareness of how to identify whether someone is malnourished and provide them with advice."
As a dietitian, Jen and her team support patients with a vast range of diagnoses, including people who are struggling to consume enough nutrition, people who have chronic conditions, people with large wounds or who are in rehabilitation and more.
It is estimated that malnutrition affects over 3 million people in the UK. Poor nutrition and hydration not only harms peoples' health and wellbeing, it can also reduce their ability to recover and lead to increased admissions to hospitals and care homes. Malnutrition is more common than people expect. Around 1 in 3 patients admitted to hospital or who are in care homes are malnourished or at risk of becoming so.
"Dietitians interpret the science of nutrition to improve health and treat disease by educating and giving practical, personalised advice," says Jen. "Every day is different, but the majority of my time is spent helping people to consume more food to help improve their nutritional status, quality of life and clinical condition. I love that my role enables me to help people and to see that things I have put in place are making a positive difference."
Diet and swallowing go hand in hand, and our dietitians work closely with speech and language therapists. Swallowing problems are not a disease but a symptom of multiple diseases. Understanding the neurophysiology of the swallowing impairment can support differential diagnosis.
"Almost 90% of the patients that we see as speech and language therapists have difficulty eating, drinking or swallowing," explains Anita. "We take eating and drinking for granted, but it is more than just fuel for our body, it is important socially and psychologically too."
Anita's patients are people with eating, drinking and swallowing disorders, which could be a result of a neurological difficulty such as Parkinson's disease, muscular sclerosis or motor neurone disease, or due to a structural difficulty, for example someone with a head and neck cancer.
"To support patients we need to work out why their swallow is affected, which involves a high degree of problem-solving using technologies such as videofluoroscopy and endoscopy and working with a multidisciplinary team," says Anita.
Anita and her team organised the first Swallowing Awareness Day in 2016 when the team was having difficulty recruiting staff.
"We are proud to have instigated a national day for swallowing," says Anita. "It is my aim to educate as many people as possible on what to look out for and what to do if difficulties are discovered. We offer dysphagia training (dysphagia is the medical term for swallowing difficulties) for healthcare professionals. Colleagues who have undertaken the training can refer directly to speech and language therapy if they are worried about a patient."
If you are concerned about your swallow, contact your GP and ask to be referred to speech and language therapy for assessment and support.