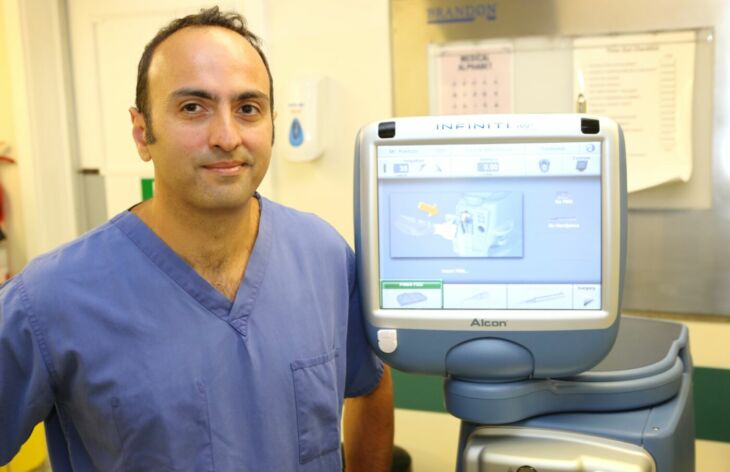 Shahram Kashani is a consultant ophthalmologist who has worked at the trust for 12 years. Here Shahram tells us a little more about his career, his role and a recent challenge he undertook for an important cause.
What led you to a career in ophthalmology?
"My late father was an ophthalmologist and he was a huge influence. Ophthalmology has a perfect mixture of medicine and surgery and as an ophthalmologist you can decide how medical or surgical you want to be. There is also plenty of scope to get into research or education in ophthalmology. Teaching is a particular passion of mine.

"Another reason I chose ophthalmology is that you can diagnose the majority of patients with non-invasive diagnostics that we have in clinic, without the need for blood tests or complex imaging.

"Finally, cataract surgery is one of the most commonly performed operations in the NHS and is extremely satisfying with over 99% success rate. In my view, sight is the most important sense and restoring people's sight is very rewarding."
What brought you to our trust?
"I was a senior fellow at Moorfields Eye Hospital, starting to look for consultant jobs. My junior doctor had worked at Eastbourne and told me how friendly the team of consultants and nurses were there. I decided to visit Eastbourne and was very impressed with the department's enthusiasm to be progressive and modernise. The team's friendly culture was palpable and I knew that this was the place for me to start my consultant career."
What conditions do you treat?
"I am a high-volume cataract surgeon, so cataract surgery plays a huge part in my day. My subspecialty training was in medical retina and uveitis, so I see patients with macular degeneration (the most common cause of blindness in the UK), diabetic eye disease, retinal vascular occlusion and inflammatory eye disease. I also see and treat other common ophthalmic conditions such as glaucoma and dry eyes – I am a general ophthalmologist."
What does an average day look like?
"My average day starts around 8am. I usually have a mixture of outpatient clinic and theatre activity. In clinic I see new and follow up patients. I tend to see complex new cases or those sent for second opinions. I am also a clinical supervisor and am consulted by junior doctors, optometrists, nurse practitioners and orthoptists on various cases.

"Theatre is normally filled with challenging and complex cataract cases. When cases are suitable for our junior doctors, I train them on cataract surgery."
What is the best thing about your role?
"Training our junior doctors and in particular our nurses, optometrists and orthoptists in various extended roles, such as running subspeciality clinics and managing the injection service. This is really an important part of modernising our service and allows us to recruit and retain staff, which I believe is crucial for the survival of ophthalmology departments in secondary care."
What has been your highlight of your career to date?
"I have managed to transform our intravitreal injection service to a non-doctor led service. Our service does around 10,000 injections a year. This has allowed us to free up doctors to concentrate on managing more challenging areas within ophthalmology, such as attending outpatient cases."
You recently undertook a huge challenge to raise money for charity, what was it?
"The Kent Surrey Sussex Air Ambulance Charity is close to my heart and I wanted to raise money with a challenge completely outside my comfort zone. A friend was talking about his plans to climb mountain Kilimanjaro. I had never climbed a mountain or even attempted a significant hike. I had not camped before and I am not very sporty in general. I trained for about five months and hoped for the best!"
Why did you choose Kent Surrey Sussex Air Ambulance Charity?
"In May 2015, my daughter Ayla fell off a climbing frame at school. An ambulance was called as she was sick following the fall and the paramedics quickly realised that she was seriously unwell and requested an air ambulance.

"Ayla's vital signs were significantly abnormal and she was taken to St Georges Hospital and treated in the air by the Kent Surrey Sussex air ambulance team. She was one of the first children to receive plasma in the air.

"It transpired that Ayla had ruptured her spleen. Without the air ambulance Ayla would not be with us today. She is 14 now, and thankfully healthy."
How did the challenge go?
"I managed to climb to the top of Mount Kilimanjaro after five days of hard climbing. The hardest day was the final day when we were woken at 11.30pm to start the climb to the summit. The temperature was around -10c and it took around nine hours to reach the top. You had to stay awake to avoid slips and falls, and I was dealing with horrendous mountain sickness, which I would describe as the worst hangover ever. However, at the summit the views were breath taking and I felt relieved that I had reached the top and not let my family and those who had donated to the charity down.

"So far, I have managed to raise over £11,800 from 200 donors, which is fantastic. The link to donate is active until the end of April and I would be extremely grateful if you would like to support the air ambulance charity too."