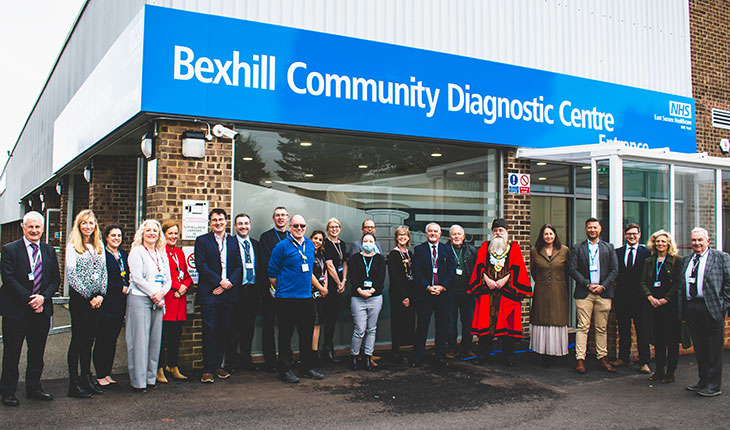 Bexhill Community Diagnostic Centre, which provides services such as cardiac diagnostics, x-rays, echo-ECGs, ultrasound, lung function and phlebotomy, as well as MRI and CT scans on a rotational basis, has been officially opened by the Mayor of Bexhill, Councillor Paul Plim.
This new centre is part of a national programme to increase the access to NHS diagnostics in local communities – is open five days a week, but will be expanding its opening hours to include evenings and weekends from April.
Joe Chadwick-Bell, Chief Executive of East Sussex Healthcare NHS Trust said: "I was delighted to be able to welcome the Mayor of Bexhill to formally open the Community Diagnostic Centre. Staff from the trust and the wider NHS worked closely with colleagues in the local authority and our builders to create this fantastic new facility from a disused car showroom in a matter of months, and they have my sincere thanks and congratulations for all that they achieved. It will make a real difference to how patients in East Sussex receive their care".
Dr Dinesh Sinha, Chief Medical Officer for Sussex, said: "We know rapid diagnosis saves lives, and it is great news the new centre in Bexhill has been opened to provide checks and scans in the heart of the local community. This will make services more accessible and convenient, while also helping to improve outcomes for patients with cancer and other serious conditions.
"We are committed to further increase access to these checks and tests, helping our local population receive care and support quicker."
Councillor Paul Plim, Mayor of Bexhill, said: "I'm absolutely overwhelmed by the facilities available in the diagnostic centre. The fact that it is centrally located will be a great benefit to the people of Bexhill. Thank you to everyone involved for creating such a fine facility."