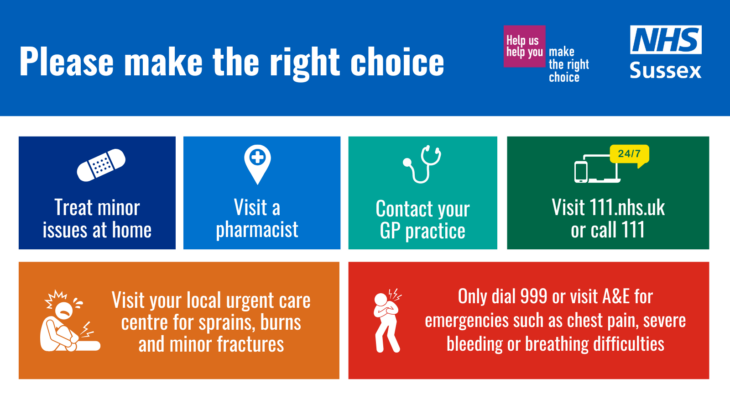 With hundreds of hospital doctors on strike this week, people are being asked to help the local NHS provide safe care – or risk being redirected from A&E to other services, if that is appropriate.
The priority for hospital staff this week will be on caring for those in the most need. People arriving at A&E departments who could be seen elsewhere may be directed to other NHS services or pharmacies, or simply asked to reconsider when and where they should seek help.
Hospitals across Sussex are likely to have fewer than half of their normal number of doctors working at any given time, with consultants having to provide extra cover to secure safe services, and the impact will be significant – especially after the long Easter weekend.
Across Sussex thousands of patient appointments have been postponed this week, to help hospitals to prioritise life-preserving and emergency care during four
days of industrial action by junior doctors.
The NHS in Sussex is asking people to think very carefully about choosing the most appropriate NHS service for their needs. Please only use 999 or visit A&E for serious or life-threatening emergencies, such as chest pain, severe bleeding or breathing difficulties.
For anything that is not a life-saving emergency, people should use an alternative NHS service. If you are unsure what service to use, visit NHS 111 online, or call 111.
NHS Sussex Medical Director, Dr Amy Dissanayake, said:
"Using alternative services when it isn't a life-threatening emergency will ensure that Emergency Departments are available for those most unwell.
"Last month, during the previous junior doctor industrial action, the Emergency Departments in Sussex continued to see high numbers of attendances and many people could have been treated elsewhere. At a time when many doctors were on strike this was extremely challenging."
Pharmacies, walk-in centres, minor injury units and urgent treatment centres will continue to be available during the industrial action and can help people with a range of injuries and illnesses. See the full list of open services.