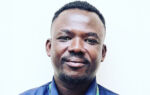 Felix Asibey is a Clinical Facilitator who has been in post for a year. We had a chat with him to find out more about his role and what brought him to our trust.
Hi Felix, how did you become interested in the role you do?
"When I first joined the trust I met several international nurses who needed more support in their various working areas. I told myself that we needed someone who has been through the process to be able to understand their needs and provide better support to all our international nursing staff."
What is the best thing about your role?
"The best thing about my role is the joy I feel in my heart and how fulfilled I am when I see those that I have been able to help and support working happily and independently."
What do you think people who do not work in your department would be surprised to learn?
"People who do not work in my department would be surprised to learn different the range of skills that are needed, such as teaching, supervising and mentoring skills. The confidence to stand in front of a large group of people (colleagues and superiors) to do presentation or lecture. This role has also built my managerial skills which is immensely helpful in my day-to-day activities."
How has your role changed since you started?
"The role has changed since I joined as we update and change what we are teaching every now and then. New policies have been put in place all to help the international nurses to feel comfortable and welcome."
Who has inspired you in your career?
"John Buyungo, Specialist Nurse Practitioner, has really inspired me since I joined the trust. As a young man travelling to the UK for the first time, I needed someone to talk me through the trust's policies and protocols, as well as how to become a good team member, and even how to know my way around in the unfamiliar environment. John had an immense effect on my journey to become successful in my career and I believe he continues to help me even now. I really appreciate his friendship."
What is one of your favourite work memories?
"One of my favourite work memories is when one of the international nurses performed so well during her assessment. I felt so happy that I wanted to hug her! She did amazingly well, and I felt so pleased that I had been able to help her."
I love my role because…
"I meet different people from different countries all the time and I get the opportunity to help them pass their exams so they can become a registered nurse in the UK. The greatest joy of my role is when I see the international nurses, who have their pin, in their new uniforms, working independently and safely."