Congratulations to Pevensey Day Unit and the radiology team at Conquest Hospital and Eastbourne District General Hospital who have been recognised for their support of clinical research at the recent NIHR Clinical Research Support Awards.
The Research Support Awards recognises people and teams within the Kent, Surrey and Sussex region who don't work directly in research delivery, but provide essential support for research activities.
Both teams received a 'highly commended' award recognising them as unsung heroes of research.
Jo-Anne Taylor, Head of Research at the trust, said: "I am absolutely delighted that these two departments have received this recognition. Clinical research benefits us all: it saves lives, changes lives and improves patient outcomes. We currently support the delivery of over 35 studies across the trust in a variety of specialities and this can only happen with the engagement of a huge community of clinical and non-clinical colleagues in our hospitals."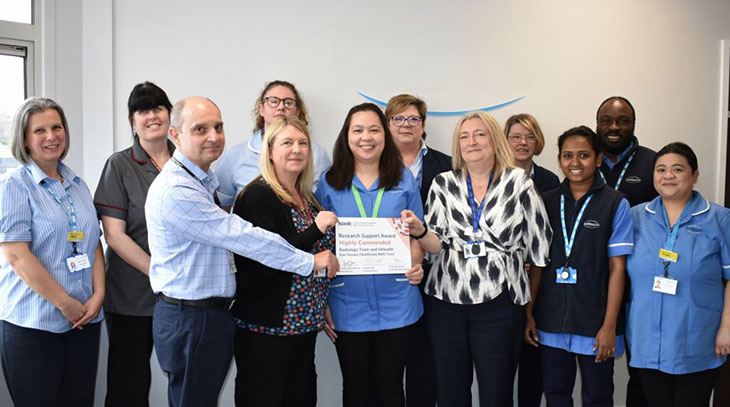 More than 70 individuals and teams were nominated across the KSS region, from 21 different organisations, from acute NHS trusts to care homes.
Dr Joanne Zamani, Chief Operating Officer of NIHR CRN KSS, said: "The number and quality of nominations this year was incredibly high and included many inspiring stories. These show just how passionate people feel about research, even when it is not part of their core role. Deciding on the winners was challenging with so many high quality nominations from a wide range of disciplines. It is wonderful to see the extraordinary level of commitment people working in health and care show to improving the wellbeing of their communities."
Each team has received a highly commended certificate and £250 for their department to spend on research promotion and engagement.