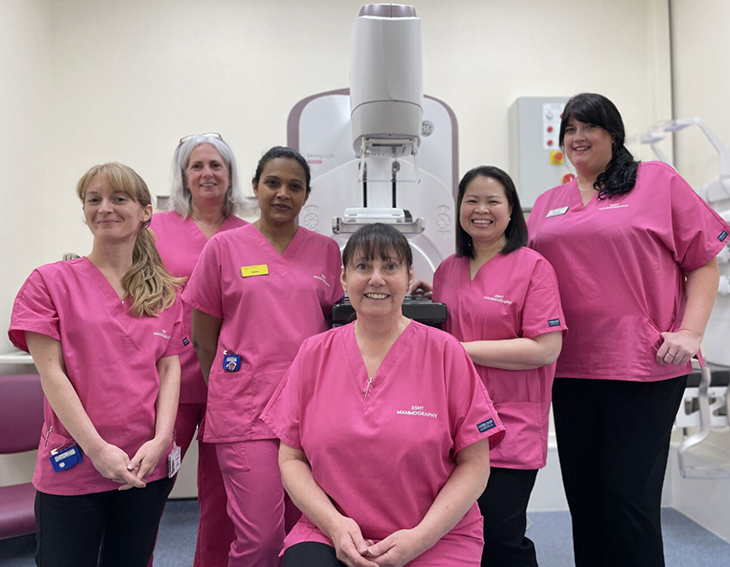 Our team of mammographers have changed the colour of their uniforms to 'breast cancer awareness' pink.
Mammograms are a highly emotive and personal examination for many of our patients, so every effort is made to reassure and help reduce any anxiety and stress.
Making the mammography team more identifiable for our patients will help reduce anxiety. For example, women are often concerned that they may be imaged by a male, but mammography is the only health examination performed exclusively by female practitioners. We inform our patients of this via our pre-examination leaflet, which they receive prior to attending their appointment. Unfortunately, many patients still worry about it, so we hope that an easily identifiable uniform will help to alleviate their fears and improve their experience.
Louise Richards, Clinical Manager for Mammography, said, "We are keen to provide reassurance to help our patients feel comfortable when they come to see us. Our team of mammographers are all female, and we hope that by changing the colour of our uniform to differentiate us from the rest of the radiology team, we can be easily identified by our patients and in turn reduce any stress and anxiety that people may feel when they attend."
In addition, mammographers hold advanced skills in addition to their radiography qualification and the new uniform allows the team to be identified and recognised for this.
Our mammography team work across the trust. Shown here L-R are Nancy Lappa, Senior Mammographer, Rachel Pankhurst, Assistant Practitioner Mammographer, Hema Ponnusami, Senior Mammographer, Louise Richards Clinical Manager Mammography, Donna Kamatoy, Senior Mammographer, and Lauren Head, Interventional Mammographer and Deputy Modality Manager. Jane Hartnell, Senior Mammographer, Naomi Hubbard-Coles, Senior Mammographer, and Aleksandra Nasir, Senior Mammographer, are also part of the team although not pictured here.