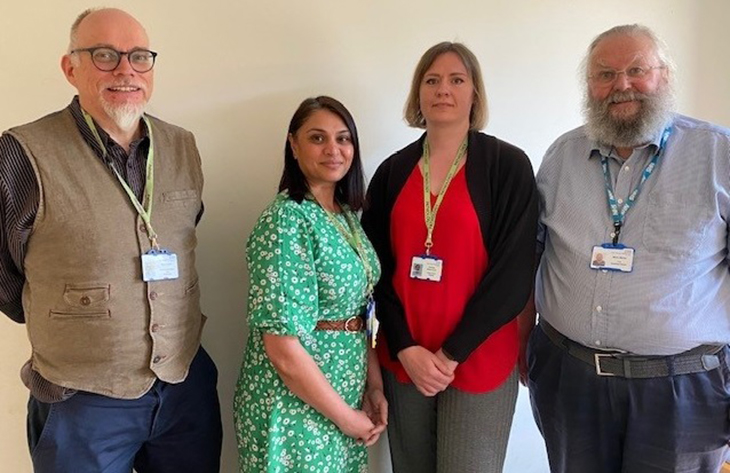 Today is Biomedical Science Day (8 June), where we celebrate the teams who work behind the scenes.
Biomedical scientists are registered scientists under the Health and Care Professions Council (HCPC). They mostly work in healthcare laboratories, the 'engine room' of modern medicine. 70% of diagnoses in the NHS are based on pathology results provided by laboratory services.
Biomedical scientists provide colleagues with vital scientific information, allowing them to make informed clinical decisions, ensure blood stocks are adequate at critical times, match blood to patients, measure chemicals to monitor a patient's condition, investigate disease by studying tumour samples, and identify micro-organisms in the fight against infection.
Radhika Reddy is a Senior Biomedical Scientist who has been with the trust for 27 years. She says: "I love my job! The job varies enormously day to day due to the variation in patients and their differing needs. It is hard work but very rewarding to see what an important role we play in patient care, as well as the help we give to the trust and to service users in meeting targets.
"I would recommend this profession to anyone who is interested in biomedical science. There are so many routes into this career too, from apprenticeship programmes to Accredited Degree plus HCPC registration portfolio, and MSc Scientist Training Programme."
Pathology is a huge department for the trust, with 200 staff members working across several sections each dedicated to the specialty and service they provide. The team perform over 8.5 million tests a year through their 24 hour, 365 days a year service.
Pathology covers several different areas:
Phlebotomy
Phlebotomists take blood from patients in different settings, including clinic appointments, pre-booked specialist tests and on wards.
Blood sciences
Blood sciences is the study of body fluids:
Biochemistry/point of care (POCT) is the biochemical study of body fluids, including blood, serum, plasma, urine, cerebrospinal fluid, saliva and faeces. Tests detect enzymes, chemicals and hormones to help diagnose, treat and monitor disease.
Haematology, blood transfusion and immunology is the study of blood diseases. This area looks at the formation, composition, function and diseases of blood. Diagnosis and management of benign and malignant disorders of red and white blood cells, platelets and coagulation. Blood transfusion identifies blood groups for blood transfusion and maintains bloodstocks for critical incidents like road traffic accidents, haemorrhage and operations.
Cellular pathology
Cellular pathology is the study of cells:
Histology is the study of tissue samples to establish the cause of diseases in organs, tissues and cells. Key diagnostic tests initially detect cancers and other diseases.
Cytology includes cervical screening along with non-gynaecological services such as bronchial washes and sputum tests.
Mortuary is concerned with care of deceased patients, post-mortem, condition and transfer.
Microbiology/PCR lab
The microbiology/PCR lab studies micro-organisms and identifies viruses, bacteria, fungi and parasites which cause disease, infections and antimicrobial susceptibility. They receive COVID swabs, blood and urine cultures, HIV and syphilis tests.
Specimen reception
The specimen reception is where samples are delivered by chute, personal delivery and courier delivery from GPs. It is an intense and busy area where urgent and specialist samples are fast tracked, samples are sorted, booked, labelled and made ready for analysis.
Pathology stores
Pathology stores control stocks of vacutainers, reagents and everything needed for laboratory and service users.
Pathology IT
Pathology IT are responsible for the IT within the laboratories for trust and service users.
To celebrate the 7th annual Biomedical Science Day , arranged by the Institute of Biomedical Sciences. The pathology team have a display set up in the restaurant at Eastbourne DGH between 12pm and 2pm. Come along to find out more about the importance of the biomedical scientist's role in patient care, and get information about pathology services, careers and job opportunities.