Our fabulous Peacehaven Community Nursery Nurses (CNN) were nominated for the Health and Wellbeing Award at this year's trust awards.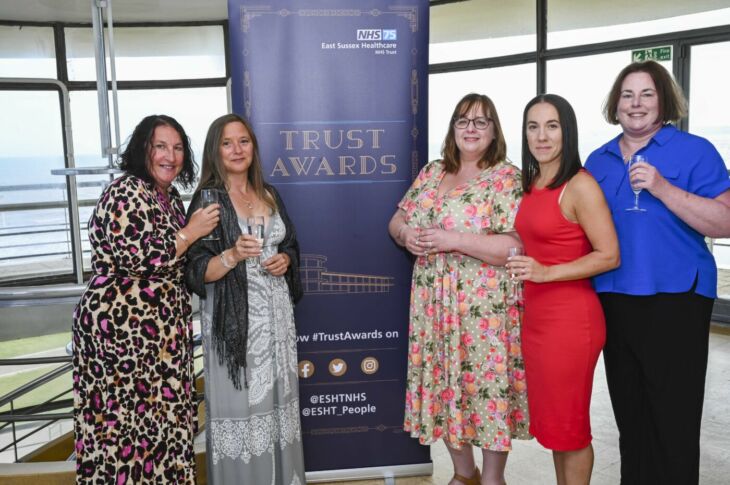 We met with them to find out more about their team and their experiences working in a challenging community service.
"Our team are what we love most about our job!" say Caroline, Heidy and Sam, the CNN's I'm speaking to. "That and being able to empower parents, and see change happen. Seeing parents blossom and bloom and then have them say, 'I'm OK now, I don't need you', is wonderful. And we can then say, 'yes. you have done a good job!'" adds Heidy.
"It's supporting those parents, building a good relationship with them and growing that trust. Trust between a CNN and the family is a big thing. If you do all the mandatory visits it's lovely being able to see the children grow," says Sam.
"One of the benefits of working in community is that we get to go into their homes and see them in their real world rather than just in a clinical environment," Heidy, a CNN tells us. "If we only saw them in a clinic we wouldn't get to see their home environment so we wouldn't know whether they need support in that area."
"By going into the home we get a much fuller picture of what is going on; if they are happy and settled, etc. We can also offer home safety checklists to advise on safety gates and fire alarms, things they might not have thought about." Sam tells us. "If they have young children we can see the bed environment, sleeping areas and all that, to ensure safety is being maintained."
"A really important focus of our role is the reassurance we give to parents when things are okay. It's saying, you're doing a brilliant job and we're here if you need us," Caroline says. Heidy agrees: "It's empowering the parents to make those positive changes. Because we can't be there all the time, and neither should we. We're there to support them, not take control of them, not be in charge. It's their family and their life so it's helping them to make those positive changes."
"We do experience challenges though," says Caroline. "It's really difficult going in with advice that you know is going to work and then having parents say, 'done that, tried that, nothing works'. And you know that the children won't get the benefit from a plan that works when it's really implemented, because some parents just can't or are unable to."
"We do also get some families that seem to be with you forever, because you've created that really trusted bond with them," says Sam. "A lot of families are used to having a named person. As a service we don't have a named health visitor, but we seem to have gotten into this thing where you have a named CNN. So you're holding that family. And it is challenging to work out when to stop."
Clare, the Community Administrator for Havens, Lewes and High Weald, says that people would be surprised at the amount the CNN's do. "They go above and beyond. The whole team are brilliant. They really support each other and are just so helpful. If one of them are sick they help each other out. They realise families still need to be seen and they do what they can to help. I know that sometimes it does get a bit much for them, but they do it. We've got the dream team!"
Image (L-R): Sam Doyle, Nicola Donovan, Heidy Beadle, Caroline Eddy-Daniel and Tracey Webbon, community nursery nurses, pictured at the Trust Awards 2023.