We were delighted to welcome Lord Markham, Parliamentary Under Secretary of State at the Department of Health and Social Care, to Eastbourne District General Hospital today, where he met with our executive team, colleagues from across the trust and local stakeholders.
The visit was part of Lord Markham's tour of hospitals across the country that are part of the New Hospital Programme.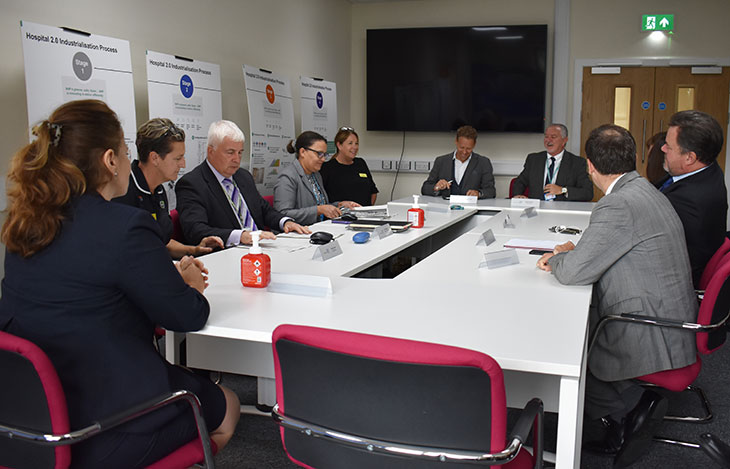 During the visit Lord Markham heard from members of our executive team and our Building for our Future team who outlined our plans for the project, which will see developments at Eastbourne District General Hospital, Conquest Hospital in Hastings and at Bexhill Hospital, bringing much needed improvements for future generations of patients.
Lord Markham toured the entire site, visiting our outpatients department and speaking to colleagues in the emergency department. He also attended a roundtable with colleagues from all areas of the trust to discuss the challenges of delivering modern healthcare on an ageing site and hear their thoughts on the exciting plans afforded by the New Hospital Programme.
Steve Phoenix, Chairman at East Sussex Healthcare NHS Trust, said: "It was a pleasure to welcome Lord Markham to the trust so that we could share our plans and show him why the need for a new hospital is so great. Patients and colleagues will benefit from the modern technology and high-quality care that a state-of-the-art hospital will bring. It is a historic investment in the future of healthcare here in Eastbourne and will have a truly positive impact on the whole of our community."
Dr Simon Dowse, the trust's Director of Transformation, Strategy and Improvement said: "We are a high performing organisation, however we have reached a point where outdated and under invested sites are hampering patient experience, productivity, ability to recruit and the ability to deliver modern healthcare models. Funding from the New Hospitals Programme is vital to ensure that local patients get the best care now and in the future, and we are proud to be a part of the Government's New Hospital Programme. The new hospitals will be transformative for both patients and our colleagues."
The trust continues to work with the New Hospital Programme of the development of the project. In addition, the opening of our community diagnostic centre in Bexhill in January and the work which is underway to build a new elective hub on the Eastbourne site are major achievements that will provide enhanced facilities for our patients.