Did you know that we have over 130 trained mental health first aiders in the trust?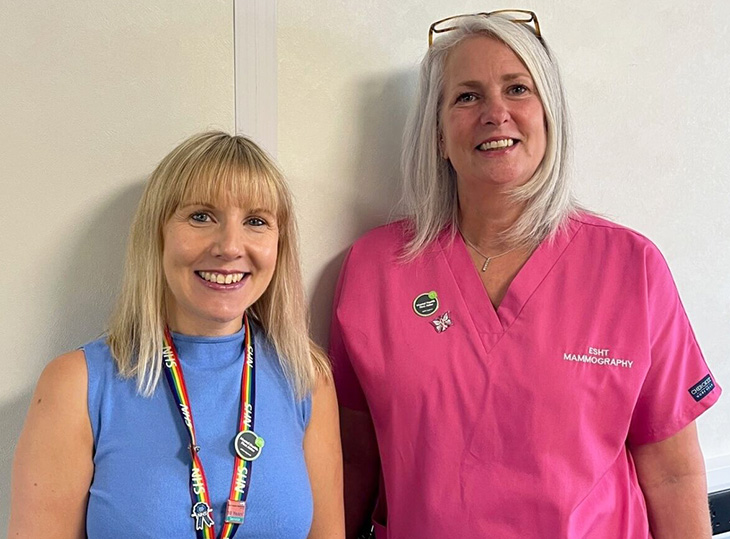 Our mental health first aiders have been trained by the accredited mental health first aid England course over four sessions. They are taken on a deep dive into the world of mental health, learning about various conditions like schizophrenia, anxiety and psychosis. They are given the tools with which to assist someone who is struggling with their mental health and signpost them to the right support.
We spoke to two of our mental health first aiders about their experiences. Rachel Pankhurst is an Assistant Practitioner in mammography. She told us how the training illuminated how mental health is still stigmatised within our society and the NHS.
"The training demonstrated how important it is to break the cycle of stigma and of labelling people and their illness. There is a need for better communication, understanding and support, not only for our patients but just as important, for our colleagues. The COVID pandemic highlighted how essential it is that we start looking after our mental health and our colleagues as well. We spend most of our working day interacting with our colleagues and because we are becoming more mental health aware, we are now getting used to recognising when our colleagues are not their usual selves and asking that all important and brave question: 'Are you ok?'"
Annabelle Gray, Human Resources Assistant, told us:
"The course was so interesting and the skills derived from the course not only help me in my role as HR Assistant but also in day-to-day life too. I have many interactions with colleagues daily. I have learnt, above all, that it is so important to listen to what people have to say. Sometimes this is all that is needed. But it is also now being better equipped to signpost to avenues of help and support if required."
Annabelle and Rachel have found that they are better able to support their colleagues through the skills they've learnt.
"I offer an open-door policy for mental health first aid support within radiology," says Rachel. "Anyone that wants to chat confidentially can come and find me in mammography or they can email me if I'm off. Friday is 'check in' day to see how everyone is doing and what their plans are for the weekend. It gives us something positive to look forward to which promotes good mental health within the team."
Colleagues interested in taking part in our mental health first aider course can find out more on our extranet.
Image: Annabelle Gray, Human Resources Assistant, (L) and Rachel Pankhurst, Assistant Practitioner in Mammography (R)