Next Tuesday (17 October) is Pharmacy Technician Day, celebrating the contribution and support pharmacy technicians provide to colleagues and the crucial part they play in helping patients make the most of their medicines.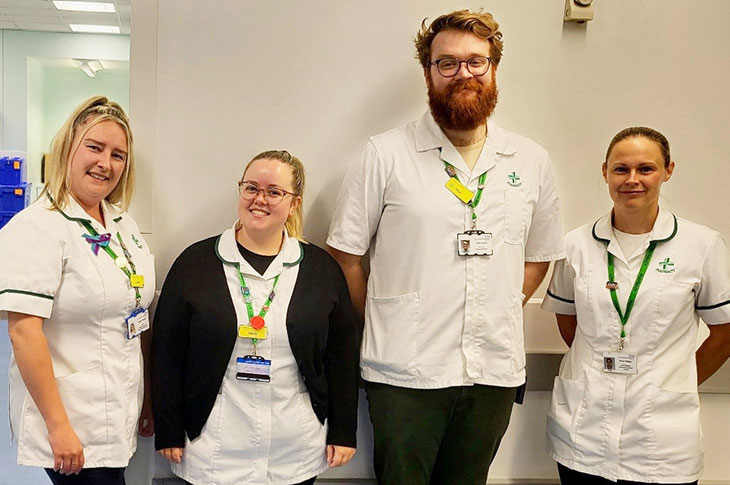 Pharmacy technicians are key members of the pharmacy team, engaging with patients, liaising with other healthcare professionals and providing support for safe and effective use of medicines.
To learn more we spoke to some of our pharmacy technicians to hear about their roles and what they enjoy about the job.
Oliver Smith, Ward-based Medicine Management Pharmacy Technician
"I joined the pharmacy team in 2017 as a Pharmacy Assistant, then trained as a Pre-Registration Trainee Pharmacy Technician for two years before qualifying in February 2021.
Some of the best and most satisfying parts of the job include rectifying any discrepancies identified from medicines reconciliation, ensuring that the correct drug, strength, form, frequency and duration are prescribed.
"I particularly enjoy final accuracy checking of prescriptions, which involves making sure that medications match the clinically screened prescriptions they are dispensed from. This is the final step to a prescription leaving the pharmacy to be delivered to a patient. Accuracy and a keen eye for detail is vital to ensure treatment is safe and effective. Taking the time to counsel patients on the use of their medication is usually met with immense gratitude and they appreciate the one-to-one time and the chance to ask any questions they may have – particularly if they are apprehensive about newly initiated treatment."
Cherry Burnett, Ward-based Medicine Management Pharmacy Technician
"I have been working in pharmacy for coming up to five years now. I started as a dispensary assistant and completed my level 2 NVQ. I then began my Pre-Registration Pharmacy Technician training in February 2021 and registered earlier this year. I have had the opportunity to gain experience in different areas of pharmacy and learn so much from my colleagues. My role includes completing medicines reconciliation in a hospital setting. This includes different ward environments such as surgical and medical along with speaking to patients regarding the medications that are prescribed from their GP and the medicines they might purchase over the counter. I will communicate with doctors and other healthcare professionals about discrepancies with these medicines and order any medications that the patient may need.
"The best part of this job is the satisfaction that comes from completing comprehensive medicine reconciliations. I particularly enjoy the amount of clinical knowledge that is gained within this role and the application of this in my every day. Working within an acute setting provides stability and reliability. There are many opportunities to expand on your role and progress into different areas that may be of interest."
Victoria Phillips, Lead Pharmacy Technician for Operational Services
"My role requires me to lead the provision of medication to patients and to the wards at Eastbourne District General Hospital, by managing the dispensing and stock distribution services.
"The best part of my role would be the variety that it brings. I get to communicate with so many different people every single day, whether it be other pharmacy colleagues, nursing colleagues, specialists, patients, health and safety representatives, or engineers, allowing me to build positive relationships with a wide variety of people to enable everyone to reach their goal of providing a better outcome and experience for all patients.
"I would recommend a career as a Pharmacy Technician because it allows you so much scope to learn and development continuously, and it provides a multitude of different opportunities to specialise in specific areas, depending on what interests you the most."
Sophie Goujon, Lead Pharmacy Technician for Education and Development
"I am responsible for the management, organisation and delivery of education, training and development of Pre-registration Trainee Pharmacy Technicians (PTPT) and pharmacy support colleagues. This includes acting as an Educational Programme Director and Educational Supervisors for the PTPT. I also support the Pharmacy Undergraduates, T-Level students and Trainee Pharmacists. I attend career fairs and apprenticeship roadshows to promote our trust as well as pharmacy in general.
"The best part of my role is how rewarding it can be. Watching new colleagues come into the pharmacy, some with no pharmacy experience, and supporting them through their courses and watching them become excellent pharmacy assistant/technician is great. I love to watch people achieve and grow to the best of their ability."
Amelia Cousins, Ward-based Medicine Management Pharmacy Technician
"My role is to complete medicine reconciliation with 24 hours of admission and communicate any discrepancies to the doctor or pharmacist to get them fixed. I also counsel patients if they have been started on any new meds and reassure them on how to take them effectively so they are achieving the best results.
"The best part of my job is talking to patients. I enjoy reassuring a patient on their medication and being able to ask them how they feel and making sure that they are involved in their own care and can have a say in what happens. Sometimes we might be the only person to have a conversation with the patient about their medication and if they are starting something new it can be quite scary, so some simple reassurance is all they need."
Joby Russell, Lead Pharmacy Technician – Medicines Governance
"The best part of the job is that every day has different challenges, which can be very rewarding to overcome. There is also lots of room to grow your knowledge as you will be working alongside some incredibly intelligent and talented individuals."
Helena Skilton, Lead Pharmacy Technician for Medicines Management
"As part of my role I look after the day to day running of the clinical medicines management technicians on the wards at Eastbourne District General Hospital.
"The best part of my role is the variation from day to day; speaking to patients on the wards, mentoring and training new colleagues, not only technicians, trainee technicians and trainee pharmacists.
"I would encourage others to choose becoming a pharmacy technician as a career as you are a registered professional who will learn something new every day. Every day is different and you gain a wide and varied knowledge base around the medications you are handling and make a difference to the patient experience during their hospital stay."