In October our urology team reached the fantastic milestone of 2,000 robotic operations performed at Eastbourne DGH.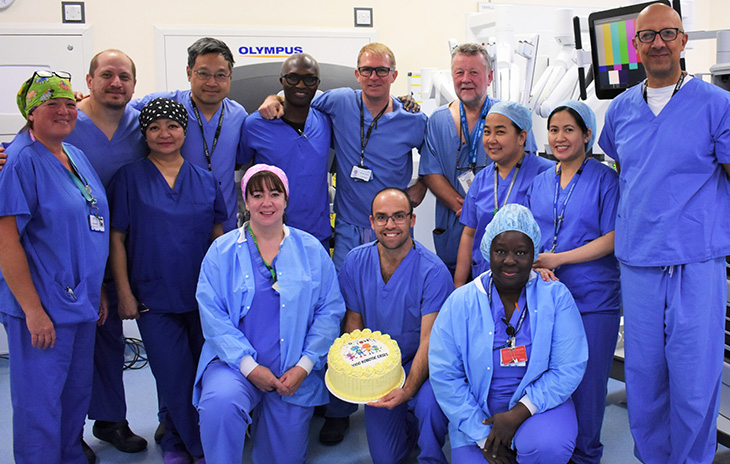 We spoke to Mr Karl Spiteri, Consultant Urologist, about the robotic urology service.
"Since the surgical robot was introduced at Eastbourne DGH in 2015, the robotic urology service has gone from strength to strength, and we have become a regional urology pelvic cancer referral centre. Having already been at the forefront of cancer surgery in the past with the pioneering of laparoscopic cystectomy and ileal conduit in the UK, urology has been an early adopter of minimally invasive robotic surgery.
"Robotic urology procedures are now performed every day, including major bladder, prostate and kidney cancer operations. Over the years, the use of robotic surgery has transformed these procedures into increasingly precise and safe operations, with improved patient and hospital outcomes. Quicker recovery, reduced pain, reduced complications, reduced length of hospital stay, reduction in blood loss and transfusion requirements, improved continence rates and the ability to perform locally high complexity operations are among the many benefits this programme has resulted in. It is exciting to see that the team are also successfully implementing a day case robotic radical prostatectomy service.
"Our robotic urology surgery service has kept us consistently at the forefront of urology cancer treatment, and keeping us ahead of the curve continues to attract talent to our trust, attracting urological surgeons and trainees to join our team and practice in a cutting edge environment.
"The picture above shows part of the team celebrating the achievement of 2,000 robotic surgeries, but the colleagues pictured are only a fraction of the whole team that are driving the ongoing success. Our team is made up of enhanced recovery after surgery nurses, urology cancer nurse specialists, anaesthetists, operating department practitioners, scrub nurses, theatre runners, theatre matrons, the urology service manager, ward nursing colleagues, the acute pain team, the pre-op assessment team, urological surgeons and trainees… the list goes on.
"Also, a massive thank you goes to the Friends of Eastbourne Hospital who funded both our first Da Vinci Si robot in 2015, as well as its replacement Da Vinci X in 2022 – you have really made a difference to patients, healthcare professionals."