Every year we welcome our new cohort of international nurses into the trust. We spoke to Ahamefula Adanma and Manju Manju about their experiences.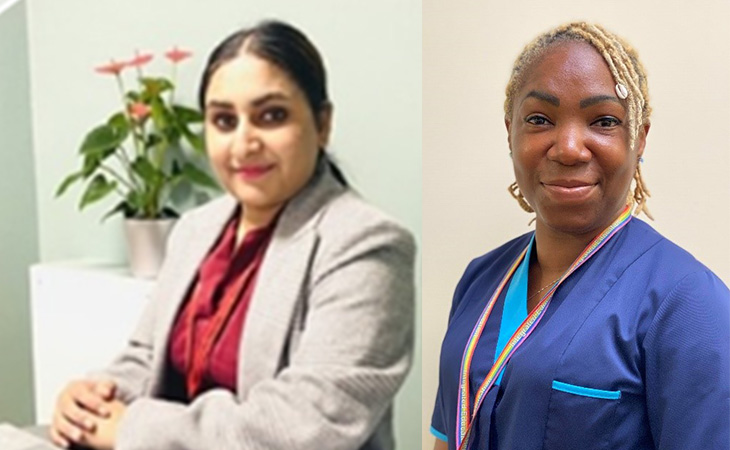 Ada joined the trust in 2021 as an international nurse working on Irvine Unit at Bexhill Hospital. When she arrived it was at the height of COVID and the process of welcoming our international nurses had to change. Ada says, "We did our induction in the hotel we were staying in, before heading onto the wards." Despite this, Ada fell in love with living by the sea in East Sussex.
In 2022, Ada took on a new role as a clinical facilitator for the overseas nurses. The role supports our international nurses through their Objective Structure Clinical Examination (OSCEs) by ensuring they have the right teaching and environment to succeed. "It is wonderful to see the evolution of the nurses from their first day to when they complete the OSCEs. The overseas nurses have such a wealth of knowledge, it is all about adapting their skills to excel in the NHS setting."
Ada's advice to any overseas nurses working at the trust is to "be open minded, learn new processes and absorb knowledge like a sponge."
Manju joined the trust on Hailsham Ward and has a passion for education. Before joining the NHS, Manju worked in clinical education in India. This passion continued when Manju started at the trust – she held team teaching sessions in her ward and took new recruits under her wing.
Last year, Manju moved to her current role as a Clinical Facilitator in the Urgent Community Response Team. Within the team she supports the learning in practice for nurses and assists in their progression. Manju helps to create a learning environment which allows individuals to realise their full potential.
Manju says, "A supportive team is really important to help individuals grow. It feels great when I can assist someone in their learning and create a psychologically safe environment where individuals can ask questions."
Reflecting upon her journey in the NHS, Manju says, "I am a different person since joining the NHS. I now have a great platform to learn and grow. There is flexibility in how I work, and I get to do a job which I am passionate about."