Last Friday we proudly celebrated one of our wonderful uro-oncology support workers, Charlie Gepilga, by presenting him with an NHS England CNO Support Worker Award.
The NHS England Chief Nursing Officer Support Worker Award is a national award that recognises colleagues that 'consistently demonstrate the NHS values and behaviours when fulfilling their everyday roles to provide excellent patient care and are an inspiration to their colleagues and the patients they care for'.
Charlie was lured in under the pretences of a celebration for International Nurses Day, which took place last Friday, but was surprised by being presented with his award by Vikki Carruth, Chief Nurse and Director of Infection Prevention and Control.
Charlie was nominated by his team for the award, recognising his instrumental part in the implementation of health needs assessments for patients with a new diagnosis of a urological cancer.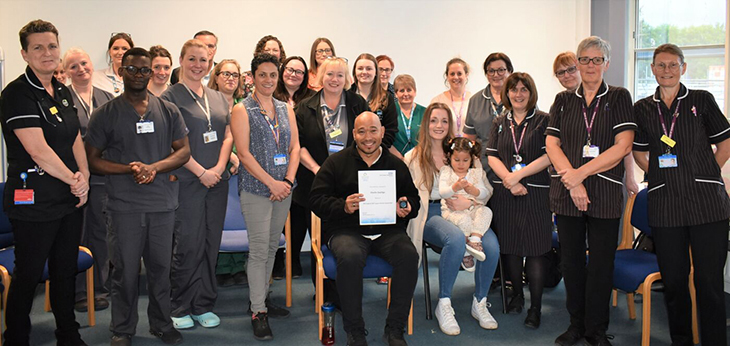 A health needs assessment allows patients the opportunity to discuss their worries and concerns with a health care professional in a safe and supportive way. It allows for further care planning which can have a positive impact on the patient's experience of cancer treatment, ensuring they receive personalised wellbeing information and support. Charlie undertakes several health needs assessment clinics each week, conducting assessments with patients and their loved ones following a cancer diagnosis, and providing an opportunity to ensure people's physical, practical, emotional and social needs are identified and addressed at the earliest opportunity. The assessments form part of the personalised care agenda and are advocated for and recommended by Macmillan Cancer Support.
As part of his nomination, Sally Sawyer, Lead Uro-Oncology Clinical Nurse Specialist, said:
"Charlie embodies the NHS values of working together for patients; respect and dignity; commitment to quality of care; compassion; improving lives and everyone counts. The impact of this clinic is improving lives for people with cancer.
"The impact that Charlie has on patient care and the clinical nurse specialist team is immeasurable. Patients have ready access to a healthcare professional and the clinical nurse specialists have more time to spend with patients requiring more specialist input."
Well done to Charlie for an amazing achievement.