Our emergency departments are open 24 hours a day, seven days a week.
Before coming to one of our emergency departments, please stop and think. Do you need urgent care today or can your GP, pharmacist or 111 help you more quickly?
Our services remain very busy. If you need help from the NHS, please think carefully before deciding which service you need. Emergency departments are for serious, life-threatening emergencies, such as breathing difficulties, chest pain or severe bleeding. In many cases there are other services that will be able to help you more quickly.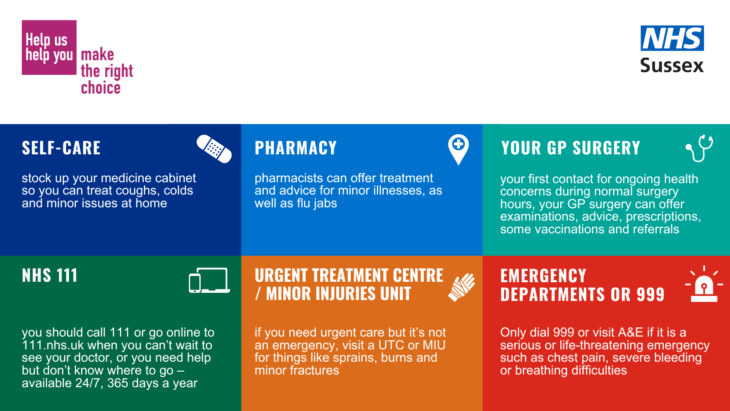 If you do come to one of our emergency departments, you will check-in using one of our eTriage tablets. The tablets ask a series of simple questions to enable us to assess everyone and see the patients with the most urgent need first.
If your symptoms mean that you don't need to be seen in an emergency department or one of our attached urgent treatment centres, you will be directed to a more appropriate healthcare service. This could be:
Your own GP. If you have been having difficulty contacting your GP, we will do our best to book an appointment with them for you.
NHS 111. Services provided by 111 include nurse advice, emergency dentist, pharmacists, as well as direct bookings with your own GP practice.
LIVI. LIVI provides GP appointments by video, seven days a week, enabling you to speak to the right clinician about any health concern or symptom. LIVI can provide medical advice, prescriptions, specialist referrals and sick notes.
Minor Eye Condition Service (MECS). MECS can help with conditions such as red, dry or gritty eyes, irritation and inflammation, discharge, ingrowing lashes, recent sudden vision loss and foreign bodies. You can make an appointment yourself via most local opticians. If you present in our Emergency Department, one of our team will make an appointment with the MECS for you.
A pharmacy. If a local pharmacist can look after you more quickly, we will direct you to the most appropriate pharmacy for your need.
Emergency departments remain very busy. Help relieve the pressure on NHS services by making the right choice when you need help.